Mentioning that politics is not a profession to make money and buy cars, President Abdul Hamid on Monday said it is the responsibility of politicians to create a suitable and progressive political environment in the country.

"It has to be ensured so that politics could be exercised in a political environment with the confidence and trust of people for their welfare," he said.

He came up with the remarks while addressing a memorial meeting and discussion programme on late JS Speaker Humayun Rashid Choudhury.

Speaker Humayun Rashid Choudhury Smrity Parishad organised the programme marking his 92nd birth anniversary.

Hamid said, "It's very important for a politician to adhere to principles and ideals. Leadership is very important for governing a country and a nation, and running a [political] party. And the country, the nation as well as the party will move to the right direction if the leadership is good."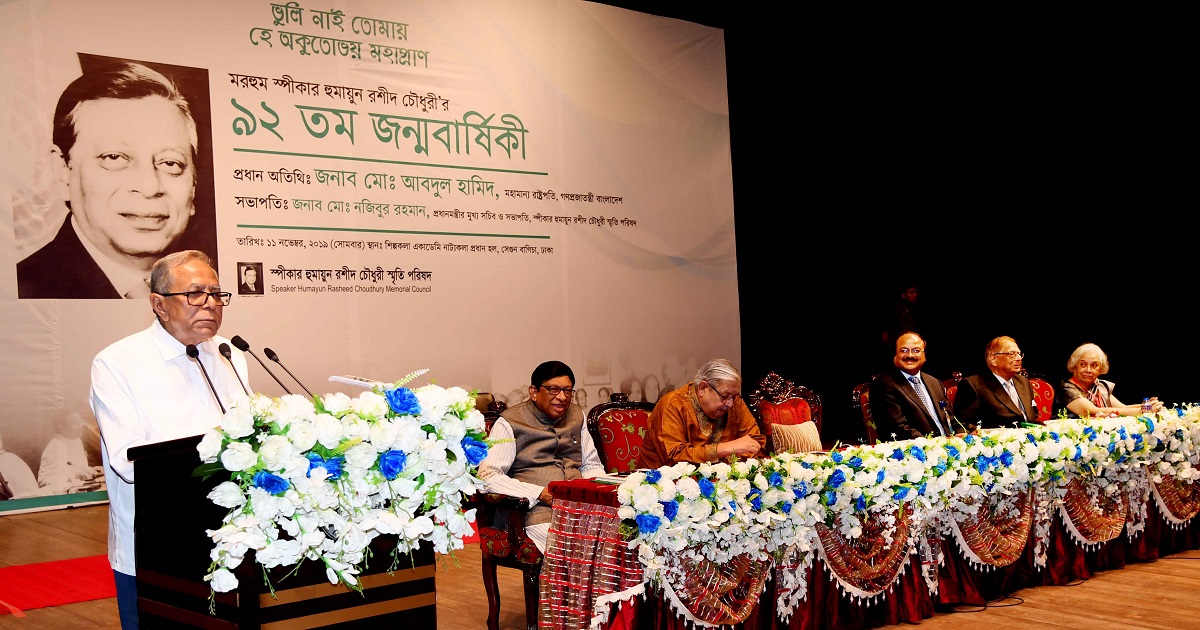 The President went on to say, "One can become a leader overnight in exchange of money or abusing power but the confidence and trust of people can't be earned [in that way]. The trust and support of people are needed most for a politician and a political party."

Mentioning that the main goal of politics is to ensure the welfare of people, Hamid said, "Politics is not a profession by which you can buy cars or make money. But these days it is seen that even small leaders don't lack money, cars and houses."

He said, "A section of people has turned politics into a tool of doing business and making illegal wealth. This culture has to be stopped in politics. Or else, the confidence and interest of general people in politics and political leadership will decline. The path of building honest and capable leadership will be blocked. Politics will no longer remain under the control of political leaders, which is not expected at all."

President Hamid hoped that all the political parties and politicians of the country will take initiatives to establish democracy and build proper and competent leadership for the future generation.

National Coordinator of Sheikh Hasina National Institute of Burn and Plastic Surgery Burn and Plastic Surgery Dr Samanta Lal Sen delivered the welcome speech while sister of Humayun Rashid Choudhury Jeba Rashid Choudhury, member of Advisory Council of Awami League Enam Ahmad Choudhury and Member of Parliament Ali Ashraf also spoke on the occasion.

President Hamid handed over a crest to the President of Smrity Parishad Najibur Rahman.


Minister for Expatriates' Welfare and Overseas Employment Imran Ahmad was present as the special guest while Principal Secretary to Prime Minister Nojibur Rahman delivered his speech at the programme.
Secretaries concerned to Bangabhaban were also present.