Pakistan has been ranked among the worst four countries in the world in gender parity with only Iraq, Yemen and Afghanistan faring worse as the country slipped to 153rd out of the 156 countries assessed in a report published by the World Economic Forum (WEF) on Wednesday, saying that the gender gap in the country has widened by 0.7 percentage points to 55.6%.

The Global Gender Gap Report 2021 stated that Pakistan featured among the bottom 10 countries in two of the four sub-indexes. The country was ranked 152nd in economic participation and opportunity and 153rd in health and survival. "Pakistan has closed just 31.6% of its economic participation and opportunity gap."

The report said that only 22.6% of women participate in the labour force and even fewer are in managerial positions (4.9%). "This means that only 26.7% and 5.2%, respectively, of these gaps have been closed so far, translating into very large income disparities between women and men," it said and added that on average, a Pakistani woman's income is 16.3% of a man's.

Read more: For women in politics, Pakistan still lags behind

Data in the report showed that Pakistani women do not have equal access to justice, ownership of land and non-financial assets or inheritance rights. However, it added that there are signs of improvement in the share of women who are in professional and technical roles (25.3%, up from 23.4% in the previous edition of the index).

Only better than Afghanistan in South Asia

Pakistan was ranked seventh among eight countries in the South Asian region with Afghanistan being the lowest. The report said that Pakistan's progress has stagnated, saying that the estimated time to close the gender gap has now increased to 136.5 years.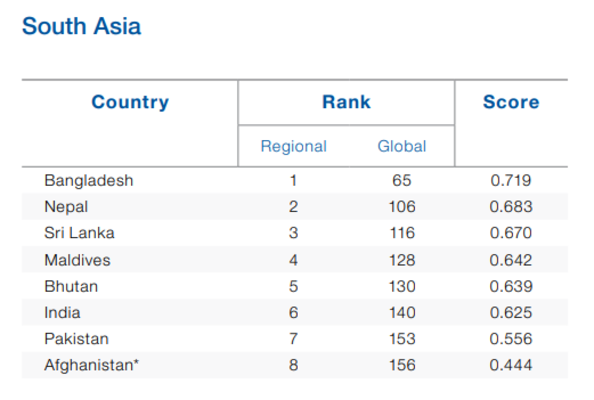 In educational attainment, just an 81.1% gap has been closed, with gender gaps as large as 13% or more across all levels of education. "These gaps are the widest at lower education levels (84.1% primary enrolment gap closed) and are somewhat narrower for higher education levels (84.7% gap closed in secondary enrolment and 87.1% closed in tertiary enrolment)."

The report pointed out that only 46.5% of women are literate in Pakistan, 61.6% attend primary school, 34.2% attend high school and 8.3% are enrolled in tertiary education courses.

Source: Tribune.com.pk