Jatiya Sangsad Speaker Dr Shirin Sharmin Chaudhury on Tuesday underscored the need for sensible journalism maintaining professional ethics to tackle the misinformation and propaganda of social media.

"Misinformation, propaganda and negative and fabricated news are now easily spreading through social media. The (mainstream) media can tackle this challenge by disseminating authentic information through sensible journalism upholding ethics," she said.

The Speaker made the remarks at a function titled 'Nagad- DRU Best Reporting Award 2021' at Krishibid Institution Bangladesh in the city.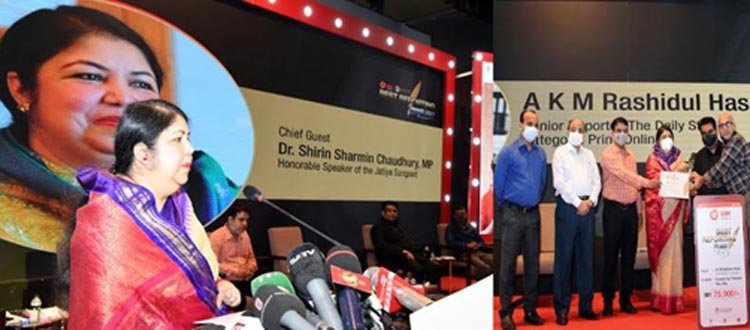 Dr Shirin said many new issues are emerging amid the social media expansion. "Journalists will have to think about this new challenge as the media can play a significant role in establishing justice through objective and responsible journalism."

She also said news should be presented with accurate and reliable information for creating informed citizens. "The more the country gets informed citizens the stronger democracy we'll have."

Stating that the media can guide the nation to follow the right path, the Speaker said journalists should provide people with objective information maintaining media ethics to help them make the right decision.

"We'll have to give priority to public interests. The media will have to realise that public trust is the most important component for going forward. The more the media gains the public trust, the more it will move forward," she observed.

She thanked journalists for their courageous reporting even during the bad time of the corona pandemic.
Later, the Speaker handed over the awards among 22 journalists under print and online and television and radio categories. Each of the award recipients was given a certificate, crest and Tk 75,000 prize money.

Speaking at the programme, Nagad's Managing Director Tanvir A Mishuk said a good report can bring many important aspects of the country and society to light. "In fact, good reports work as a weapon to change society.

DRU President Mursalin Nomani and General Secretary Moshiur Rahman Khan also spoke at the programme.